Reliable Factory Supply Aloe Vera Extract / Aloe Extract 20% Aloin


Aloe is a flowering succulent plant with thick, fleshy leaves. Barbaloin, one of its main constituents, can increase peristaltic contractions in the colon, which induces bowel movements and it also prevents the colon from re-absorbing water from the gastrointestinal tract, which leads to softer stools. Other applications of aloe extract include treatment of osteoarthritis, constipation, bowel diseases including ulcerative colitis, fever, itching, inflammation, epilepsy, asthma, colds, bleeding, absence of menstrual periods, colitis, depression, diabetes, multiple sclerosis, hemorrhoids, varicose veins, bursitis, osteoarthritis and glaucoma. It is also used for stomach ulcers, diabetes, asthma and for treating some side effects of radiation treatment.

Aloe has a long and wide using history in food, drugs, beauty products. Anthraquinone compound is the main active ingredients of Aloe, it is contain Barbaloin(also called as aloin, aloe-emodin), aloe-emodin anthranol, isobarbaloin, alomycin, aloin A, aloesin and so on. Barbaloin is the basic component, which can hydrolysis into aloe-emodin under the action of bacterial parasite in human body. Aloe-emodin can stimulate the move of intestinal wall, so it has effective function to adjust the intestine and stomach action of intestine and stomach.

The active constituents for aloe's laxative effect are known as anthraquinone glycosides, which are converted by intestinal bacteria into aglycones. The active compounds responsible for aloe's wound healing properties are less well-described but are likely a combination of several saccharide molecules. When the leaf is consumed, the high fiber content of the plant has been shown to exert beneficial effects on cardiac disease risk factors by reducing blood levels of cholesterol, triglycerides and glucose.

Product Name

Aloe Vera Extract Powder

Supplier

Xi'an Rongsheng

Extract Ratio

Aloe Vera Spray Dried Powder

200:1, 100:1(white powder)

Part Used

Leaf

Test Method

HPLC

Botanical Source

Aloe Barbadensis Miller

Specification

Aloin A+B 20%,40%,98% (brown powder)

Odor

Characteristic

MOQ

0.1kg

CAS NO.

85507-69-3

Sulphated Ash

<1.0%

Loss on drying

<3.0%

Total Plate Count

<1000cfu/g

Yeast&Mold

<100cfu/g

E.Coli

Negative

S.Aureus

Negative

Salmonella

Negative

Pesticides

Negative

Shelf Life

2 years with proper storage

Storage

Please keep in cool and dry place, do not freeze. Please keep away from strong sunlight and heat.



Function
1. With the function of antibacterial and anti-inflammatory, it can accelerate the concrescence of the wounds;
2. With the function of Stomachic and Laxative;
3. With the function of whitening and moisturizing skin, especially in treating acne; Preventing skin being damaged from UV radiation and making skin soft and elastic.
4. Eliminate the pain and treating hangover, sickness, seasickness;
5. With the function of enhancing body immunity; eliminating waste material from the body and promoting the blood circulation.



Application
(1)Applied in the fields of food and health product , aloe contains a lot of amino acids, vitamins, minerals and other nutrients, which can help body with better health care;
(2)Applied in pharmaceutical field, it has the function of promoting tissue regeneration and anti-inflammatory;
(3)Applied in cosmetic field, it is able to nourish and cure the skin.





Mesh size: 100% pass 80 Mesh
Microbiological Control:
| | |
| --- | --- |
| Total Plate Count | 1000CFU/g MAX |
| Yeast & Mold | 100CFU/g MAX |
| E.Coli | Negative |
| Salmonella | Negative |
Packing details:
1. 5Kgs packed in aluminum foil bag,outside is carton.
2. 10Kgs/Fibre Drum, double plastic-bag inside.
Net Weight :10kgs/Fibre Drum Gross Weight :12.5kgs/Drum
Drum Size & Volume :D30cm × H40cm, 0.06m³/ Drum
3. 25kgs/Fibre Drum, double plastic-bag inside.
Net Weight :25kgs/Fibre Drum Gross Weight :28kgs/Drum
Drum Size & Volume :D38cm × H55cm, 0.08 m³/ Drum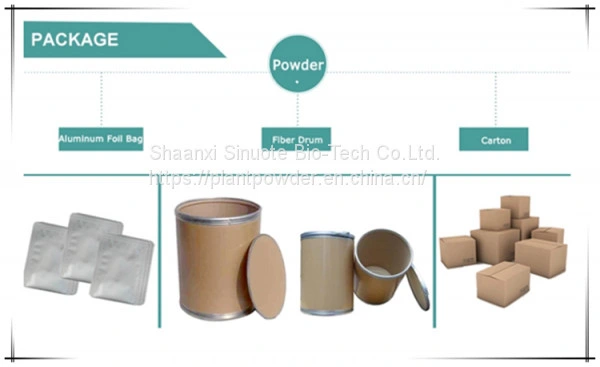 Shipping & Delivery:
Shipping Terms

By Express

By Air

By Sea

Suitable for under 50kg.

Fast: 3-7 days,

High cost,Door to door service,easy to pick up the goods.

Suitable for more than 50kg.

Fast: 3-7 days,
High cost, Port to port, professional broker needed

Suitable for more than 500kg.

Slow: 7-45 days.
Low cost, Port to port, professional broker needed.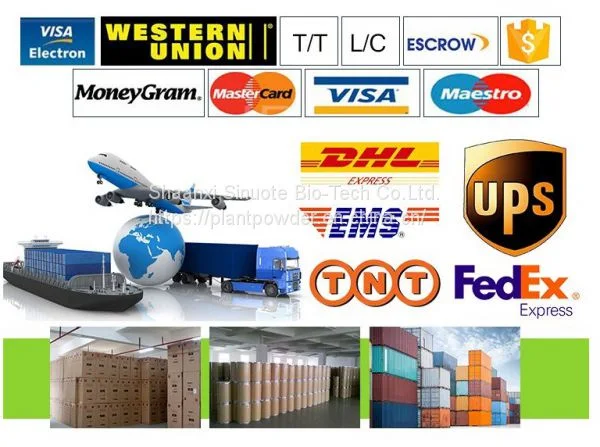 Company Information:
Shaanxi Sinuote Bio-Tech Co.Ltd. is a comprehensive enterprise integrating R&D, design, production and sales.Shaanxi Sinuote Biotech Co., Ltd. Was established in 2009. We is an exporter of China (Mainland) Plant Extract products.
Our products have been sold well in North America South America Eastern Europe Southeast Asia Africa Oceania MID East Eastern Asia Western Europe Central America Northern Europe Southern Europe South Asia! Quality and Safety We have implemented a strict and complete quality control system, which ensures that each product can meet quality requirements of customers.
Our company is a leading manufacturer of botanical Extracts in China, especially specializing in the R&D, production and sale of single extracts and standard ratio extracts. We have our own planting base in Gansu & Ningxia, covering an area of more than 10000 acres, being convenient for production. We have advanced production equipment, strong technical support, a flexible operational mechanism, a strict quality system during the entire production processes, perfect customer services and a high business reputation. We use Microcirculation and advanced Biotechnology to research a series of pure natural, Non-pollution and healthy raw materials which are widely used in functional food, nutritional supplement, medicament, cosmetic and other industries.
Elegance is an attitude. Our aim is "Quality first, Customer first". Your support is our great power. We believe that quality is the life of company. We warmly welcome you to create a brighter and healthier future for our life together with us.
Science Philosophy: "Development to nature, Loyalty to science, Dedication to health, Sincerity to people".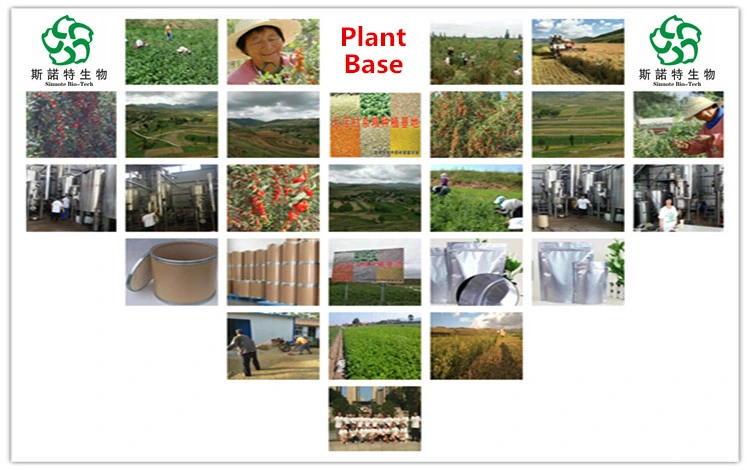 Team: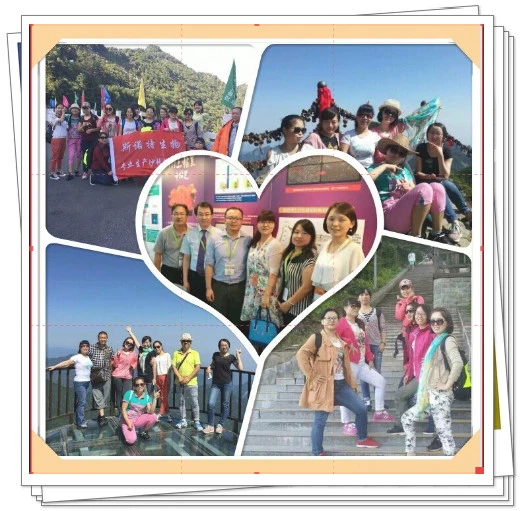 Welcome to inquiry us and thanks for your attention!